Leading Change for Transformation (LCT) workshop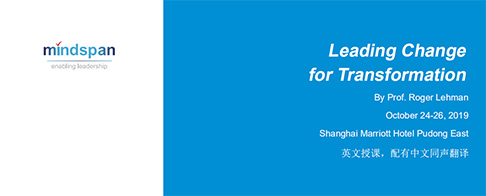 Program Overview:
We are complex, unique and paradoxical beings with rich and myriad motivational drivers, decision-making and interaction patterns. Our important feelings, thoughts and desires that remain out of awareness serve as major sources of motivation and determinants of behavior. Leadership involves harnessing and leveraging the different complex forces and dynamics at play in organizational and social functioning.
Based on the famous INSEAD Executive Master in Change degree program (EMC, formerly known as EMCCC) led by Dr. Roger Lehman, in both Fontainebleau and Singapore, this 3-day program is designed to be a truly transformational leadership journey for corporate and entrepreneurial executive participants.
You will engage and gain the insights and "lenses" to use yourself as an "instrument" for transformation. This mindset and capability will further enable you to reframe leadership shadow, so as to shape your leadership legacy in leading change more effectively through personal and social defenses.
The INSEAD clinical approach is to focus on the direct application of these seemingly familiar concepts to your professional context. This will be accomplished by creating space for case presentations to the class as well as small group work.
Applicants for this program should be curious and interested in gaining a deeper understanding of their own life patterns and apply the "night vision" - a core skill to see and work "below the surface" - to the team and organizational context. Curiosity leads to an eagerness to understand which leads to increased self-awareness.
Self-awareness creates the space for options and these options allow for choices which are necessary for change at both personal and organizational levels.
One of the broader goals of this program is to create a learning community that will extend far beyond the 3-day program. Small group work will take place on each day with the expectation that you will follow up post-program with each other in terms of your Individual Development Plan (IDP) which you will generate on Day 3.
4 Reasons for Attending
Based on the famous INSEAD EMC program, our LCT workshop promises to live the great tradition of enabling profound transformations and makes history since this is the first such EMC-rooted program in China. The EMC is also first degree program to focus on the psychological forces behind effective leaders and healthy organizations, and introduce psychoanalytical approach to leadership development.
Hand-in-hand with Dr. Manfred Kets de Vries, Dr. Roger Lehman set up the legendary INSEAD Global Leadership Center (IGLC) and masterminded the EMC program. As the lead professor and director for the EMC, Roger will facilitate the LCT program drawing upon his 36 years' experience in clinical, teaching and organizational consulting.
In this age of disruptions, organizations call for empowerment and putting people first. Leaders should be more transformational in their style, encouraging, inspiring and motivating employees to innovate and create change. Our LCT workshop is a timely program for individual psychology and leading change in face of unprecedented uncertainties, confusion and stress.
Leveraging research on psychodynamic, cognitive-behavioral and systems frontiers, the LCT program, like the EMC, powerfully advocates using self as an instrument, which is at the heart of uniqueness and effectiveness.
Who Should Attend
CEOs, other C-suite individuals, VPs, GMs and directors in business and HR functions
Entrepreneur CEOs and their core leadership team
Senior executive coaches and leadership consultants
Class size is limited to 36 participants. Due to threshold requirements, MindSpan retains the right to decline intended registrants in order to honor this class size capping and quality standard. Those who are late in sumbitting registration or don't meet the requirements for registration can consider future programs
Click here to learn more about Leading Change for Transformation (LCT) workshop program or download the flyer.
If you have any questions about our programs or other coaching programs, please feel free to contact us at (86-21) 5059 8969-806 or e-mail to simon.liu@mindspan.cn. With the exception of public holidays, we will respond to any of your inquiries or concerns within 24 hours.