"Effective leadership is not about making speeches or being liked; leadership is defined by results not attributes."
— Peter Drucker
High-performing Leadership Team (HPLT) Program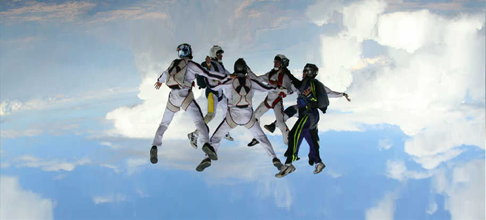 Legendary leadership guru Patrick Lencioni famously states in his latest book The Advantage: "Organizational health will one day surpass all other disciplines in business as the greatest opportunity for improvement and competitive advantage."
As we all can relate, the health of an organization provides the context for strategy, finance, marketing, technology, and everything else that happens within it, which is why it is the single greatest factor determining an organization's success. More than talent, knowledge or innovation.
Lencioni points out that most executive "teams" are not "teams" at all but rather "work groups" that return to their divisional (departmental) work as soon as executive team meetings conclude. In addition, he places the responsibility for creating a teamwork mentality squarely on the shoulders of the team leader: the CEO.
Few of us would disagree with Lencioni that healthy organizations or high- performance leadership teams are in fact few. Though the challenge in building such high-performance leadership teams is real, it's possible to attain that high team performance with implementing four the disciplines as outlined by Lencioni: 1) Building a Cohesive Team; 2) Create Clarity; 3) Overcommunicate Clarity and 4) Reinforce Clarity.
Inspired by the Lencioni's wisdom and leadership team performance challenges faced my many clients, we have developed a highly practical High-performance Leadership Team (HPLT) workshop to help CEOs or BU Heads to set organizational values, principles, and priority benchmarks in order to increase effectiveness in making decisions and behavioral alignment.
In increasing team alignment and building team bonding and collaboration, we adopt a "10-Step HPLT Approach" (see below) for optimal challenge and outcomes.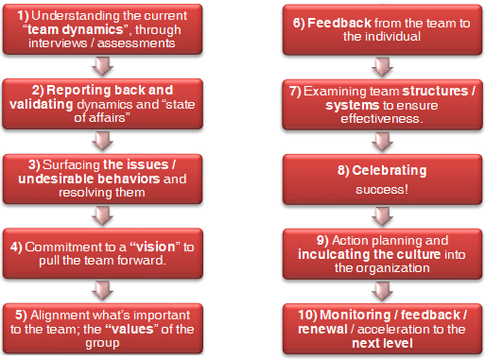 Our HPLT program is designed to be a solution with multiple interventions spanning 12-18 months depending on the needs, instead of a one-off workshop. Generally, a typical HPLT program starts with intensive interviews and assessments to better assess the situation, challenge and desired outcomes as well as differences in personality, conflict style or EQ traits, followed by focused workshops around the competency gaps such as:
1) Self-awareness, Self-knowledge and Self-mastery
2) Coaching and Developing Others
3) Strategic Thinking and Innovation
4) Leading Change and Transformation
5) Cross-functional Collaboration
6) Accountability and Effective Execution
7) Entrepreneurship and Business Acumen
8) Authentic and Inspirational Leadership
9) Managing Complexity
10) Executive Presence
11) Executive Energy Management and Personal Effectiveness
Usually we also suggest 1:1 coaching programs for the key or all Leadership Team (LT) members as well as group coaching sessions that may last only 2-3 hours. The 1:1 coaching programs take from 6 to 12 months and would work extremely well when they are endorsed by the CEO or BU Head.
In increasing team alignment and building team bonding and collaboration, we adopt a "10-Step HPLT Approach" (see below) for optimal challenge and outcomes.
We have a very strong and committed Executive Team Development team of coaches and consultants with a collective experience of 200 years in executive management, coaching and leadership development. The distinctive difference between our team of coaches and consultants with the coaches from a traditional consulting firm is that they are former senior executives in the trench knowing the client challenge from inside out. They are former CEOs or Vice Presidents in Fortune 500 companies and have had proven results in helping clients achieve breakthrough transformation.
Terry Blaney, a former Shell Vice President and CEO in operations, and Douglas Gerber, a former Pepsi Greater China Vice President for Sales & Marketing, who is given the credit for the above "10-Step HPLT Approach", jointly lead our HPLT practice.
Click here to download the HPLT flyer.
If you have any questions about our HPLT program, please feel free to contact us at (86-21) 5059 8856 or e-mail to gary.wang@mindspan.cn. With the exception of public holidays, we will respond to any of your inquiries or concerns within 24 hours.