"Leadership is a privilege to better the lives of others. It is not an opportunity to satisfy personal greed."
— Mwai Kibaki
Executive Coach Certification Program (ECCP) Workshop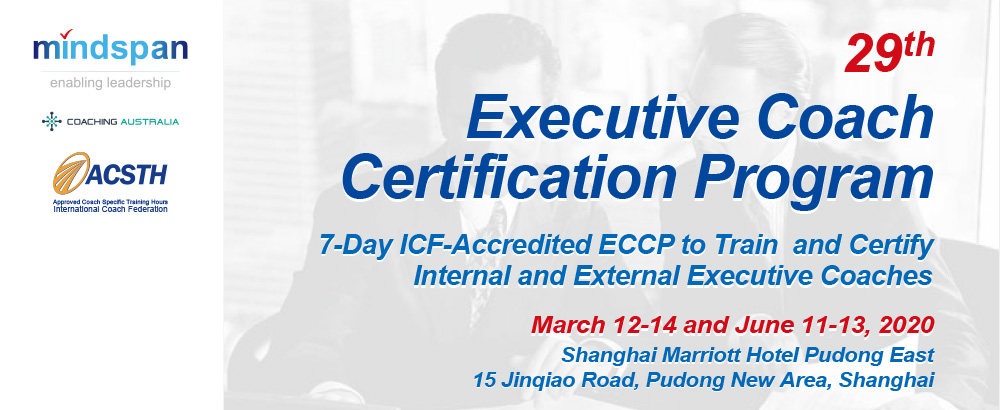 Program Overview:
Globally recognized for its effectiveness, executive coaching has become one of the most heavily invested tools in senior leadership development among the world's most outstanding organizations. More and more companies are driving the coaching culture to increase retention, performance and leadership development. The value of the external coach is now widely recognized as executives are able to utilize the agenda-free relationship to examine the targeted areas for personal and professional development in a safe forum.
Our cutting-edge program provides thorough and highly experiential training focusing on tools and practical application of real-life executive coaching scenarios so that you come away fully equipped to operate as an internal or external coach.
To make our ECCP unique, we acknowledge the conflicting paradigms of Western leadership best practice and the Chinese culture, and examine the challenges ahead for coaching in China.
Our ECCP was designed by Lisa Wandl (PCC),CEO and Founder Coaching Australia and Coach Global, and boasts delivery by some of the most experienced and highly credentialled coaches in Asia Pacific. The programme has the unique advantage of cutting -edge, unique and acclaimed models developed by Lisa based on her almost 20 years' experience as an Executive Coach with organisations including LinkedIn, PwC, Macquarie Bank and AIA, and as leader in creating coaching cultures in organisations"
These models support the ease of learning and implementation of coaching skills and processes, and have received consistent acknowledgment across some 17 cultures by both new and experienced coaches for their power and simplicity. Experienced coaches report a deepening of effectiveness of their coaching, whilst new coaches find the models highly supportive and simple. The methodologies support everything from ad-hoc leadership conversations, right through to providing rigour to formal coaching processes across a full structured coaching programme
Our 7-day ECCP is broken down into two 3-day face-to-face workshops supported by weekly 2-hour group conference calls between the 2 workshops, followed by 3 additional monthly group mentoring calls and e-mail support.
The ECCP Legend:
In partnership with Coaching Australia based in Sydney, our ECCP is the first ICF-accredited Executive Coach Certification Program in China. Since its launch in late 2009, we have so far conducted 27 ECCP workshops in Shanghai, Beijing and Guangzhou and trained More than 450 participants, many of whom are now strong coaching advocates and sponsors in their organizations.
Built on our success in the past 9 years, the 27th ECCP will be organized in Shanghai in March 14-16 and June 13-15, 2018
As a testament to the success of ECCP, past graduates include senior business and HR executives from top companies including Microsoft, GE, IBM, J&J, Wal-Mart, Shell, Pfizer, Novartis, Standard Chartered, Honeywell, Roche, Mars, Ford, Deloitte, Bristol-Myers Squibb, E&Y, Schneider Electric, L'Oreal, Huawei and Lenovo.
It's no exaggeration to say that the huge success of ECCP is a legacy in coaching's short history in China. It has significantly helped raise the level of awareness of Executive Coaching in this new market and the collective experience the ECCP graduates introducing coaching into their organizations has helped shape the coaching industry as it is today.
What makes ECCP so successful? As we look back, we believe there are 3 things that really separate ECCP from competitive programs:
1. Extremely focused, practical and experiential design;
2. World-class facilitation and role modeling by the coach trainers;
3. Eager, high-caliber senior-leader participants from top companies
Click here to check recent ECCP programs.
If you have any questions about our ECCP workshop or other coaching programs, please feel free to contact us at (86-21) 5059 8969-801 or e-mail to kerry.zhao@mindspan.cn. With the exception of public holidays, we will respond to any of your inquiries or concerns within 24 hours.